A capital melting pot: sample Sacramento's Asian restaurants and food stores - Travel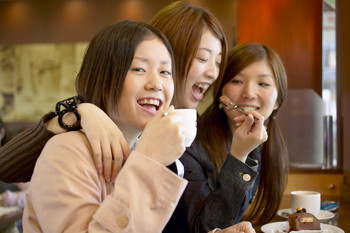 Step into S.F. Supermarket in Pacific Plaza and you cross into Sacramento's thriving Asian American community. The sound of repeated thwacks lures you to the roasted-duck counter, where a small man with a big cleaver reduces a whole mahogany-colored bird into a pile of steamy, mouthwatering chunks in seconds. From the back of the store, sizzling sounds alert you to the free deep-frying service, which transforms customers' fresh striped bass and red snapper purchases into instant meals. Shoppers inspect bunches of lemon grass and bok choy; others pile items like banana sauce, frozen radish cakes, and bottled curry paste into their carts.
Asia it's not, but this bustling store and its retail neighbors--spread out together in a 140,000-square-foot, Asian-themed shopping complex--will make you feel as if you've stumbled onto another continent.
Sacramento is home to a constellation of Asian American and Pacific Islander American cultures, a group that constitutes about 13 percent of the city's population. As a result, the range of Asian cuisine available in the city is impressive--one can spend an indulgent day exploring dishes from Chinese dim sum to Pakistani cholay (spicy chickpeas) to Thai torn ka gai (a coconut-ginger chicken soup).
This integration also means that the city's diverse ethnic eateries are not tidily concentrated in any one neighborhood, as in San Francisco's Chinatown. Instead, they're scattered throughout the city, loosely concentrated along three main thoroughfares: Stockton and Folsom Boulevards and Broadway. In general, the flavor of the Broadway area is largely Japanese American, the Stockton corridor has a major Chinese American and Vietnamese American presence, and many Korean American eateries can be found along the Folsom corridor. But these distinctions are by no means hard and fast; the best thing to do is simply set out--with an appetite and a sense of adventure--and see where you end up.
What's for lunch?
1. Andy Nguyen's. Excellent Vietnamese food, including many vegetarian options. MUST TRY: Vietnamese marinated shrimp, beef, and calamari, grilled on an iron "plate" placed directly on the table. 2007 Broadway; (916) 736-1157.
2. Budnamu Jip. Korean fare. MUST TRY: hot-pot bibimbap, a traditional Korean rice bowl topped with meat, seasonal vegetables, and a fried egg, then drizzled with gochujang, a hot redpepper sauce. 8979 Folsom Blvd.; (916) 366-6698.
3. Fortune House. A boisterous Chinese seafood joint. MUST TRY: poached whole black bass garnished with slivered scallions and cilantro. 1211 Broadway; (916) 443-3128.
4. New Edokko. A Japanese restaurant for noodle lovers. MUST TRY: hiyashi chuka, cold ramen noodles served with strips of cucumber, roasted pork, bean sprouts, shrimp, egg, and fish cake. Closed Sun. 1724 Broadway; (916) 448-2828.
5. Thai Palace. The servers, dressed in ornate Thai attire, are especially friendly to children. MUST TRY: spicy som tum, a green-papaya salad with lime and dried shrimp. Closed Sun. 3262 F St.; (916) 447-5353.
6. Huong Lan Sandwiches. A Vietnamese sandwich joint. MUST TRY: banh mi bi, a shredded-pork sandwich. Pacific Plaza, 6930 65th St., Ste. 109; (916) 429-9999.
A cook's tour
7. Asian Supermarket. Hard-to-find Asian produce such as fresh banana blossoms or taro root, plus a wide selection of Asian noodles. 6428 Stockton Blvd.; (916) 399-1356.
8. East Indian Foods. Shelves crowded with Indian curries, chutneys, and stacks of colorful spices. Huge bags of flour and rice form haphazard aisles of their own, and freezers carry items like cassava root, breadfruit, and Fijian reef fish. 7290 Franklin Blvd.; (916) 391-9436.
9. Osaka-Ya. This cozy Japanese bakery/grocery store specializes in mochi--soft, sticky, pastel-colored confections made from glutinous rice dough stuffed with sweet bean paste. The bakery also sells manju, miniature baked or steamed cakes filled with whole sweet beans or bean paste. From May through summer, you can also buy shaved ice topped with homemade syrup. 2215 10th St.; (916) 446-6857.
10. Sacramento Tofu Company. Customers from all over Sacramento and the Bay Area come here for the store's distinctive tofu. Unlike most tofu, which is semicooked to extend its shelf life, this one is fresh, so it has a unique--some would say better--flavor. Closed Sat afternoon (from 1 P.M) and Sun. 8300 Belvedere Ave.; (916) 383-0725.
11. Marlbo Ginseng Co. Stock up on dried sea cucumbers, shark fins, bulk mushrooms, Chinese roots, and teas. Pacific Plaza, 5555 Sky Pkwy., Ste. 219; (916) 393-3788.
12. S.F. Supermarket. A take-out area offers roasted duck and ready-made Asian dishes. Great seafood and meats, plus Asian cookware, teas, and frozen items. Pacific Plaza, 6930 65th, Ste. 123; (916) 392-3888.
RELATED ARTICLE: A festive feast
On May 18, the streets of historic Old Sacramento close to traffic during the 11th annual Pacific Rim Street Fest. Entertainment includes dancers and music (such as thunderous Japanese taiko drumming), martial arts and acrobatic demonstrations, and children's art activities. Browse arts and crafts booths displaying Hmong embroidery and Hawaiian jewelry, and sample food from many countries. In a single day you'll be able to try Chinese cha siu bao (steamed buns), Filipino lumpia (egg rolls), and Nepalese chicken sekuwa (a grilled boneless chicken marinated in yogurt and mustard). Arrive hungry and with an open mind. 10:30-5: free admission. Take 1-5 to the J St. exit; follow signs to Old Sacramento. Enter Old Sac at Third and J Streets or Capitol Mall and Front Streets. Visit www. pacificrimstreetfest.org for more festival information.