A range of gastronomic delights awaits in the windy city - IEFP/Pack Expo - International Exposition for Food Processors; Chicago, Illinois restaurants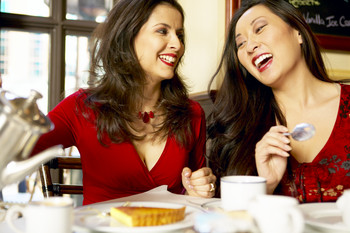 The IEFP/Pack Expo 2002 is a big show and, if you're attneding you may be in Chicago for a while. Thankfully, we at Dairy Foods know a little bit about where to eat here in our home-base city. So read on and find out where you can treat your taste buds while attending the show.
Chicago is a city of immigrants so there's an array of ethnic cuisine to sample. The city also has its history as the nation's meat marketplace, so there are plenty of places to get topnotch steak and prime rib. Chicago's own cuisine does reflect its bruising blue-collar image, and a Chicago pan pizza or a hotdog with the works (everything but ketchup) are worth a try. But beyond there are four star Continental restaurants boasting world-class chefs and innovative bistros with fantastic wine lists.
Speaking of wine, the windy city is also famous for its taverns. And there's more to be had than a beer and shot.
So, here's an idea of what a typical gastronomic day in Chicago might
The original Lou Mitchell's (there are three locations) is a Chicago classic. Huge omelettes (try the spinach and feta), thick French toast and outsized cinnamon and pecan rolls will give you plenty of fuel for walking the floor, but it's not for those with cholesterol concerns. Or, try Wishbone in "Oprahville" west of the Loop, where Southern style cooking clashes with vegetarian trendy-the results are delicious. For breakfast with a Swedish twist there's Ann Sather, also with three locations. It's hard to decide between the lingonberry pancakes or one of the three varieties of eggs benedict. Either way, start out with the world's best cinnamon rolls. These places serve inexpensive lunches and dinners too!
LUNCH:
Chicago hot dogs are different from those you find in any other city. Like the City of Big Shoulders itself, a Chicago hot dog is monument to great architecture. A poppy seed bun, an all-beef wiener (steamed or grilled) mustard, relish, onions, tomato, cucumber, pickle slice, hot peppers and sometimes lettuce. Try Gold Coast Dogs, Wiener Circle, or Justin's. Then there's the pizza. Again this is a dish that should require a building permit. A Chicago pan pizza (the inspiration for Pizza Hut's interpretation) is thick and satisfying and must be eaten with a knife and fork. Pizzeria Uno invented the thing. Go there for the history and the food. Or try Eduardo's where they grow their own basil. The trendy Wicker park neighborhood is home to Piece, with its New Haven style pizza and on-premise brewery. If you've never been to the Billy Goat Tavern for a "cheeboyger" and a draft beer it's another great lunch option. No fries, chips. Great burritos can be had at the little yellow places called La Pasadita on Ashlan d Avenue near the intersection of North Avenue. It's a real neighborhood, and the food's a real treat.
DINNER:
If you want to make an impression, or if you just have an appreciation for the best a restaurant can offer try Everest with its dazzling top-floor view. Everest consistently gets top ratings for food, atmosphere and service. Choose from dishes like salmon mousse, pheasant breast and venison with huckleberries. Four-star French cuisine awaits at Ambria in Lincoln Park, Charlie Trotters enjoys a world-class reputation for exciting inventive dishes, and the Davis Street Fish Market in neighboring Evanston north of Chicago is great for seafood. And if you're staying on Michigan Aye, The Dining Room at the Ritz Carlton is Everest's only equal.
ETHNIC:
From Dim Sum in Chinatown, to an array of fine Italian restaurants, Chicago has great ethnic food--Thai, Sushi, Greek, Vietnamese, Mediterranean, Moroccan--you name it, it's here. For great Polish food try Mareva's on Milwaukee Ave., for Spanish Paella and Tapas, Cafe Iberico in the North Loop is your best bet.
DRINKS:
The Matchbox on Milwaukee and Ogden is often cited as the smallest bar in the city, but it's big on selection and flair, with perfect Martinis and Belgian beer. There are a number of great beer places in Chicago: the award winning Goose Island Brewing Co. has surprisingly good food and Chicago's best craft brewed beer at both of its locations. The beer is available in many taverns, restaurants and liquor stores.
The Map Room in Bucktown is unmatched for its selection of the world's best draft and bottled beers; particularly the Belgians. Clark Street Ale house, has a respectable beer selection and a great location near Cafe Iberico. The Tapas bars, too, specialize in Sangria and sherry accompanied by miniature dishes like olive and cheese plates. And for a nightcap of Jazz and drink, there's the Jazz Showcase or Pop's for Champagne.