California restaurants: a rich history of innovation and excitement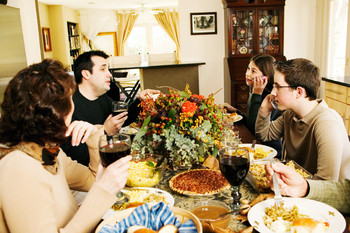 Restaurant dining is as much a part of the California lifestyle as El Nino weather patterns, tanning clinics, and earthquake readiness. Since their origins as public eating establishments in the 18th century, restaurants have come a long way--and their evolution has never been so profound or prodigious since opening their doors right here in California.
The Golden State boasts perhaps the largest assortment of restaurant concepts and cuisines than any one place in the world, mirroring both the cultural diversity of its population as well as its reputation for creative fertility.
Thanks to its history and geography, California might even be called the first fusion cuisine. It's a complete melting-pot culture from the Mexican and Spanish influences in the south and the Asian and Italian influences in the north, to an international influence throughout the rest of the state. The state's gold rush attracted miners and others to California. One of the exciting things that happened is that these people brought seeds, such as artichokes. So influential were the habits of the settlers that nearly every artichoke eaten in the U.S. today is grown in Castroville, Calif., and much of our garlic comes from California's town of Gilroy.
Despite a crush of new restaurant concepts and cuisine offerings in recent years, the Golden State still includes as its existing restaurants such cherished chestnuts as San Francisco's Fior D'Italia (America's oldest Italian restaurant, established in 1886) and L.A.'s Musso & Frank Grill, an 80-year bastion of Old Hollywood that has outlived such greats as Romanoff's, The Brown Derby, and the original Chasen's.
Through the years, California restaurateurs also introduced many once-foreign concepts into the American mainstream. The Caesar salad, Mandarin and Szechwan cooking, and Mexican and Thai food were all popularized here. The terms "blush" wine and "grazing" were coined originally in California. The Golden State lays claim to the pasta bar, San Francisco sourdough bread, the Screwdriver cocktail, wine bars, the steak-and-lobster (or surf and turf) concept, as well as originating the practice of servers identifying themselves to customers.
More significantly, California restaurants are the birthplaces of many foodservice innovations of which we now couldn't imagine a world without. Within the past century alone, these concepts and creations have included:
1900: cioppino (Italian fish-and-tomato stew), San Francisco
1905: the cafeteria, Helen Mosher, "The Cafeteria," Los Angeles the Popsicle, Frank Epperson, Oakland
1906: hot fudge sundaes, C.C. Brown's, Los Angeles
1908: Chicken Tetrazzini, San Francisco
1910: Celery Victor, Victor Hirtzler, St. Francis Hotel, San Francisco
1914: Crab Louis, Solari's, San Francisco
1915: Green Goddess dressing, Palace Hotel, San Francisco
1916: fortune cookies, David Jung, Los Angeles
1918: French dipped sandwich, Philippe Mathieu, Philippe The Original, Los Angeles
1920s: broiling with mesquite charcoal, San Francisco the cheeseburger, Rite Spot, Pasadena the chili size, Ptomaine Tommy's, Los Angeles
1926: Cobb salad, Robert H. Cobb, The Brown Derby, Hollywood Orange Julius drink, Willard Hamlin's lunch counter, Los Angeles
1927: chiffon cake, Harry Baker, Hollywood
1928: It's It ice cream sandwich, George Whitney, San Francisco Joe's Special, New Joe's, San Francisco
1930s: grapefruit cake, Brown Derby, Los Angeles hobo steak, Chasen's, Los Angeles rumaki, Ernest Raymond Beaumont-Gantt (Don the Beachcomber), Hollywood Shirley Temple "cocktail," Brown Derby, Los Angeles telephone brought to diner's table, Brown Derby, Hollywood Zombie cocktail, Ernest Raymond Beaumont-Gantt (Don the Beachcomber), Hollywood
1935: boysenberries, Walter Knott, Knott's Berry Farm, Buena Park the chili dog, Art Elkinal's pushcart, Inglewood
1937: double-decker hamburger, Bon Wian, Bob's Pantry (later Bob's Bog Boy), Glendale
1938: bags for bones, leftovers (more commonly, "doggie bags"), Lawry's, Los Angeles salad tossed at tableside before dinner, Lawry's, Los Angeles single entree on menu, Lawry's, Los Angeles
1940s: drive-thrus, Robert O. Peterson, Oscar's (later Jack in the Box), San Diego Strawberries Romanoff, Romanoff's, Beverly Hills
1944: Mai Tai cocktail, "Trader Vic" Bergeron, Oakland
1946: valet parking, Lawry's, Los Angeles Veal Oscar, Scandia, Los Angeles
1947: Moscow Mule cocktail, Cock 'N Bull, Los Angeles
1948: "self-service drive-in" (low prices, small staff, no utensils), McDonald's, San Bernardino
1949: "Googie" coffee shop architecture, John Lautner (later Armet Davis architects), Hollywood
1950s: California-style coffee shops (custom-fabricated equipment, full exhibition kitchen, 24-hour operation) ranch salad dressing, Hidden Valley Ranch, Santa Barbara toasters on the table, Ship's coffee shops, Los Angeles
1952: Irish coffee, Buena Vista, San Francisco
1955: Margarita cocktail, Tail O' the Cock, Los Angeles
1960s: Harvey Wallbanger cocktail, Pancho's Bar, Manhattan Beach
1966: specialty coffeehouses, Peet's Coffee & Tea, Berkeley
1970: fern bars, Henry Africa, San Francisco
1971: California cuisine, Alice Waters, Chez Panisse, Berkeley
1980: Mexican-style roast chicken, El Polio Loco, Los Angeles
1982: gourmet pizzas, Wolfgang Puck, Spago, Hollywood
1985: gourmet home cooking, Fog City Diner, San Francisco
1988: entirely non-smoking restaurant (including outdoor patio), Virginia Mudd, Mudd's Restaurant, San Ramon
2000: mandatory sanitation training for food servers, all California restaurants
Throughout their existence, restaurants in the state have had a champion in their corner to ensure the success of their businesses: the California Restaurant Association (CRA). Founded in 1906, CRA is the largest and longest-serving nonprofit restaurant trade association in the nation. With more than 20,000 foodservice-business members statewide, CRA offers restaurant operators a vast array of services, including state government advocacy, educational tools, local grassroots representation, and informational resources.
Headquartered in Sacramento, CRA has regional offices throughout the state. In September of this year, CRA opened its southern California office in Long Beach. The 1,400 square-foot office at 115 Pine Ave. is home to a staff of eight who represent CRA's membership, government affairs, insurance services, and educational foundation departments. The Long Beach office serves CRA members in Los Angeles, Orange, Santa Barbara, and Ventura counties. This is the first of three regional offices that CRA plans to open this year. The other two--scheduled to open within the next two months--will be located in San Diego and the Central Coast region.
Information for this article was provided by the California Restaurant Association.