Cheap eats: the quest for good taste doesn't have to take a toll on your wallet - Restaurants 2004 - Directory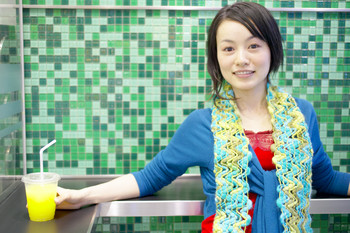 If we could afford lobster every night, mused the late A.J. Liebling in Between Meals, his book about eating in Paris, we might never discover the wonders of pot-au-feu or hot andouille sausage. His logic holds true for L.A. as well. Confined to the lush likes of Bastide or the Water Grill, we might never sample the city's most exquisite Chinese dumplings, its juiciest tacos, or its sublimely messy Cuban sandwiches. That would be a pity. So we've compiled a list of 15 finds where diners can eat exceedingly well for less than $20 in a manner that would have, we think, done Liebling proud.
Alcazar
ON ALCAZAR'S GARDEN PATIO, WAFER-thin saji bread is baked on weekend evenings. On Fridays, owner Vatche, an American singer of some renown, croons with his band. But even without the entertainment this sensuously appointed restaurant is worth a visit; it offers some of the most refined Lebanese food in the city The meze platter predates today's taste for small bites. A meal of these hot and cold dishes is easily assembled and becomes hearty when a few of the more substantial items are included: arayess (a meat-stuffed pita), hummus topped with chicken or beef shawarma, stuffed ground beef kibbe, marinated grilled quail, and a pan-fried frog legs. Entrees, primarily kabobs, are huge. For the full experience, and the evening hooked up to one of the water pipes on the patio. Open Tuesday through Sunday, 11:30 to 2:30 and 5:30 to 10:30. 17239 Ventura Blvd., Encino, 818-789-0991.
Barney's Gourmet Hamburgers
VARIETY IS THE STRENGTH AT THIS beloved Bay Area institution. The house ground beef is choice chuck and broiled into a moist, flame licked patty. Eager to please all tastes, the kitchen also offers chicken, turkey, and veggie burgers with a mind numbing assortment of toppings: sauteed spinach and feta, Monterey Jack with Ortega chiles, bacon, and sour cream. French fries--steak cut of curly--come extra crisp with Texas-style ranch dressing. The nostalgic might order a rich Oreo milk shake, with or without malt. Open Monday through Saturday, 11 to 7. Brentwood Country Mart, 225 26th St., Santa Monica, 310-899-0133. Open Sunday through Thursday, 11 to 9:30; Friday and Saturday, 11 to 10. 11660 San Vicente Blvd., Brentwood, 310-447-6000
Buddha's Belly
SILK LANTERNS AND HANGING FABRICS lend a soft glow to the simple feng shui--ed dining room, a prototype for what the owners plan as a chain. Chef watchers and solo diners can park themselves at the counter that surrounds the wide-open kitchen, where Hisashi Yoshiara, formerly of Jozu, creates dishes that ignore borders. His crispy calamari over clear vermicelli with baby greens features a Japanese dressing with an untraditional kick of chiles. The salad's flavors, and those of many offerings here, are borrowed from all over the Asian map. Fried rice is strewn with caramelized garlic cloves. Mabo ramen, a homey noodle soup, arrives as an elaborate construction: slabs of tofu topped with miso-infused pork that drift on rafts of baby bok choy. Chicken in lettuce cups, pot-stickers, spicy Thai shrimp soup, tom yom koon, teriyaki salmon--all the favorites are here, each with a Yoshiara twist. Open Monday through Friday, 12 to 10,. Saturday, 12 to 11; Sunday, 3 to 10. 7475 Beverly Blvd., 323-931-8588.
Chow Fun
A SINGULAR PEDIGREE MAKES THIS polished noodle restaurant a standout: The co-owners include Henry Leong and his son Daniel, heirs of the nationally known Quon Yick Noodle Company, which Henry's father founded in 1956 in a Chinatown storefront. It's no surprise, then, that Quon Yick supplies the family's new venture. The dining area mimics a rural Chinese village with faux compound walls, the roofs, and rustic furniture. The food is as carefully presented as the room: House special noodle soup in a delicate broth is loaded with lightly cooked chicken, beef, shrimp, barbecued pork, and baby bok choy The dumplings are tender; the wonton soup is bounteous. Specialties include a soba noodle salad with shredded cucumbers tossed in peanut sauce, flaky scallion pancakes, and ground pork-chive crepes. Open daily, 11 to 9. 686 N. Spring St., 213-626-1238.
Crepe to Go
IN PARIS, STUDENTS SURVIVE ON PENnies a day, thanks to waffles and crepes--filled with ham, Brie, or mushrooms--sold by street vendors. Today the crepe tradition, which traveled to Asia courtesy of Japanese students studying at the Alliance Francaise, is taking hold in Los Angeles. The shop is as slender as a vermicelli noodle, with barely enough room for the cast iron crepe griddle manned by a single cook. Selections are named after old-time movie stars: The Marilyn Monroe combines strawberries, kiwis, and mangoes on a crepe spread with Nutella and drizzled with chocolate syrup. The Audrey Hepburn features orange marmalade, chocolate, and whipped cream, and the Valentino contains chiles, tomatoes, and onions. Design your own crepe with ham, sausage, cheese--even ice cream. Call for hours. 2117 Sawtelle Blvd., West L.A., 310-477-8585.
The Dip
THE SANDWICHES AT THIS FUNKY CONverted hot dog stand are a sight. Lamb carved off the bone, succulent pork shoulder, roast beef pot roast, pastrami, or a thick stack of sliced roasted peppers and eggplant are piled high on crisp torpedo-shaped buns and drip with juices. Fourteen hours of ultraslow oven time render the meats so supple, you scarcely need to chew. Owner Ken Davitian, an actor who has appeared in A Man Apart and Six Feet Under, perfected his roasting technique at the delis and cafes he's owned over the years and especially, he says, under the guidance of his Armenian grandmother. Open daily, 11 to 6.14333 Ventura Blvd., Sherman Oak, 818-501-1850.
Jerk Pit
ANY JAMAICAN FOOD AFICIONADO who's lived in L.A. for more than a decade will likely remember Coley's restaurants--either the modest place on Crenshaw or the short-lived venue in Beverly Hills. The same family now runs Jerk Pit. Although its spartan look suggests fast food, everything--even the zippy fresh ginger-pineapple juice--is made from scratch. Here jerk has a distinctive style: Both the marinade and the sauce combine minced green onions, ginger, and habanero chiles with dry spices as an alternative to the usual dry rub. The empanada-like meat patties are as refined as afternoon-tea fare, and several non-jerk dinners are available. Entrees such as stewed oxtail or curry chicken or goat include fluffy rice cooked in coconut milk with beans, fresh vegetables, sweet fried plantains, and doughnut-like festival bread. They're as good as any dish from a Jamaican home kitchen. Open Monday through Saturday, 11 to 9; Sunday, 12 to 6.4335 Crenshaw Blvd., 323-298-3000.
Jinky's Cafe
THE MOTTO HERE, IS "BETTER THAN breakfast in bed," and it's apt. The comfort food at this pair of family-run restaurants is both prudent and decadent. Depending on your mood, you can order four-grain oatmeal with whole wheat and barley or the Yucatan quesadilla--eggs scrambled with tequila chicken sausage, mozzarella, and cheddar and flanked by salsa and sour cream. The pancakes are a draw, especially the pumpkin, the wild blueberry, and the macadamia nut.
Breakfast is served all day, and a subculture has grown around Jinky's oriental salad, made with smoky char-grilled chicken and heaped with crispy fried rice noodles. Several varieties of gourmet chili from Chili My Soul are also on the menu, and espresso drinks take the cafe beyond the realm of an ordinary coffee shop. Open daily, 7.30 to 3. 1447 2nd St., Santa Monica, 310-917-3311. Also at 14120 Ventura Blvd., Sherman Oaks, 818-981-2250.
Loteria Grill
BOLD NAIF IMAGES AND REPLICAS OF Mexican lottery cards draw all eyes to this small taco counter in the revitalized Farmers Market. Here you'll find fillings of lightly stewed spinach and potatoes or chile-laced roasted corn and zucchini. The many tingas-- stews cooked until nearly dry--yield an unmatched concentration of flavors. The ceviche tostada, a contrast of bracing marinated seafood on a handmade, just-fried tortilla, is heaven-sent. Tingas and roasted meats may be had in burritos, too--plumped up with black beans and moist rice. Even the enchiladas, folded over creamy chicken or dark mole poblano, are in a class by themselves. Open daily, 9 to 7. Farmers Market, Stall 322, 6333 W. 3rd St., 323-930-2211.
Pollo Grill