Good eats: Orlando's diverse restaurants will tempt show goers with tastes that range from down-home cooking to fine dining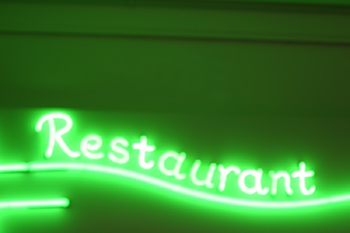 Orlando has been drawing visitors to central Florida ever since the first enterprising daredevil solicited nickels from out-of-towners to wrassle a live alligator.
Now a tourist hub, the city greets its many visitors with open arms--and a choice of more than 4,500 restaurants.
For convention-goers, International Drive serves as a convenient "Main Street," rivaling Las Vegas's Strip in the number of dining choices, entertainment options and sheer exuberant commercialism. A generous selection of restaurants can be found within walking distance of any of the area's major hotels.
Aashirwad Indian Cuisine
Aashirwad means "blessing" in India, and if you're looking for reasonably priced Indian food not far from the convention center, the name of this quietly elegant restaurant will seem more than apt. Menu features tandoori, chicken, lamb and vegetable curries as well as the requisite naans and parathas. There's a daily lunch buffet that costs less than some places charge for parking. Dinners are a quiet affair, perfect for conversation. Location: 5748 International Dr.; (407) 370-9830 $
Adobe Gila's
This lively (sometimes too lively) cantina offers a user-friendly Mexican menu featuring enormous nacho platters and 75 types of Margaritas including a 64-ounce monster that should take care of your entire party. Tacos, salads, burritos and seafood are the name of the game here, with little attempt to divert from the expected. Live music and a head-turning crowd make any visit a fun and festive night out. Location: 9101 International Dr. (at Pointe Orlando); (407) 903-1477; www.adobegilas.com $
Amura Japanese Restaurant
Amura opened as "Samurai," but when a local restaurant of the same name protested, the owners simply removed the first and last letters to create a brand new word. However, nothing else about this stylish venue is truncated. For one thing, Amura claims to have the largest sushi bar in Orlando. The Japanese-modern decor of frosted windows, brushed steel and moody lighting set the scene for a contemporary menu offering sushi, a fusion of Nipponese and European fare, and Kobe steak dinners for those lucky enough to be dining on an expense account. Location: 7786 W. Sand Lake Rd.; (407) 370-0007; www.amurarestaurants.corn $$$
Anaelle & Hugo
This Euro-American eatery features a lush mahogany dining room with cherry wood floors, soft blue and amber lighting, and an air of casual elegance. The contemporary, eclectic menu ranges from roasted duck to blue shrimp flambe, and is complemented by an impressive list of wines and selection of imaginative pastries. Sundays feature a promised "outrageous" brunch, accompanied by live jazz. Location: 7533 W. Sand Lake Rd.; (407) 996-9292; www.anaelleandhugo.com $$$
Bahama Breeze
Caribbean cuisine is served up in a colorful, raucous setting of tiki torches, tropical plants and a Hawaiian-shirt clad wait staff. A live steel drum band contributes to the party atmosphere. For dinner, try the "Fish in a Bag"--mahi-mahi sealed in parchment and baked with peppers, mushrooms and celery. Expect to wait for a table; this popular and inevitably crowded chain doesn't accept reservations. Location: 8849 International Dr.; (407) 248-2499; www.bahamabreeze.com $$
Bergamo's
Satisfy your craving for Italian with Bergamo's traditional Roman, Tuscan and Sicilian dishes. Groups here seem to enjoy passing around dishes for communal sampling, a practice the large menu seems to encourage. But there's more than good food to enjoy. The servers, all classically trained vocalists, sing operettas, show tunes and popular songs while you dine--and patrons are welcome to get into the act. You don't have to sing for your supper at Bergamo's, but it's part of the fun. Location: 8445 International Dr. (in the Mercado Shopping Plaza); (407) 352-3805; www.bergamos.com $$
Boston Lobster Feast
If your plan is to simply fill up on lobster without fancy linens or snobby waiters, the cafeteria-simple decor here won't distract you from the task at hand. Ignore the monstrous fiberglass lobster parked out front and head inside for a vast seafood buffet offering all the lobster tails, prime rib, sushi, crab and clams you could possible consume. Volume seems to be the name of the game here, and with ala carte lobsters from 3- to 20 (yes, 20!) pounds, it's up to you to control yourself. Or not. Location: 8731 International Dr.; (407) 851-4001; www.bostonlobsterfeast.com $$$
The Butcher Shop
Cherry wood walls, romantic lighting and soft jazz suggest the atmosphere of an old Chicago-style steak house, an effect slightly offset by the whimsical portrait of a Jersey cow greeting patrons in the foyer. Choose your own cuts of beef from a display case--and if you're feeling industrious, you're invited to actually help the chef cook your own steak. The menu is heavy on the beef, with filet mignon, porterhouses, New York & Kansas City strips, ribeyes, prime rib, but grilled chicken and seafood are also available. Location: 8445 International Dr. (in the Mercado Shopping Plaza); (407) 363-9727; www.butchershopsteakhouse.com $$$
Cafe Tu Tu Tango
Designed to recall a Spanish artist's loft, this festive and often noisy restaurant carries its theme to the extent of having actual painters working at their easels throughout the dining room. Wandering musicians add to the bohemian atmosphere, but the food is the main attraction, with Thai, Cajun, Spanish and Mexican dishes, plus tapas and build-your-own gourmet pizzas. A large selection of signature cocktails will help you get into the artistic mood. Location: 8625 International Dr.; (407) 248-2222; www.cafetututango.com $$
Capriccio Grill
Located just off the hotel lobby, this classic trattoria--with a checkerboard the floor, marble tabletops, Roman light fixtures and an exhibition kitchen--does its best to make you forget you're dining in a hotel. The Tuscan menu offers pastas, grilled meats, seafood and wood-fired pizzas. A cozy cocktail lounge provides comfortable sofas for an after-dinner drink. Capriccio also serves an extensive champagne Sunday brunch. Location: 9801 International Dr. (in the Peabody Orlando Hotel); (407) 345-4450; www.peabodyorlando.com/dining.cfm $$
Charley's Steak House
This chain's locations are consistently listed among America's top steak houses, and they take their reputation seriously. Cuts are selected from 3-year-old, grain-fed steer and aged for up to five weeks. Steaks are flame broiled on a natural wood-burning pit in a "secret" method used by Florida's Seminole Indians, for a flavor likely to satisfy any serious carnivore. Dark wood paneling and Tiffany-style lamps drive home the point that you're in a serious steakhouse. Popular with conventioneers, reservations at Charley's are strongly recommended. Location: 8255 International Dr.; (407) 363-0228; www.charleyssteakhouse.com $$$
Christini's
If you've packed more than a pair of shorts and your favorite golf shirt, Christini's could be the dining experience for you. Ornate decor, strolling musicians, a gentile atmosphere and decidedly immodest prices mark this gourmet Northern Italian restaurant as a premiere dining experience. Sports and entertainment figures are frequent guests, drawn by the professional service and the artfully prepared dishes. Christini's recommends reservations and requires "proper attire." Location: 7600 Dr. Phillips Blvd.; (407) 345-8770; www.christinis.com $$$
The Crab House
The neon-trimmed lighthouse roof, nautical signs, ships' fittings and lobster bibs signal that you're in for a casual seafood feast at the Crab House. Live Maine lobster, fresh crab, steaks, prime rib, and daily fish and pasta specials are available along with an all-you-can-eat seafood and salad bar. Simple, unpretentious food and simple, unpretentious fun. Location: 8291 International Dr.; (407) 352-6140; www.crabhouseseafood.com $$
Dux
The name is in honor of the Peabody Orlando's resident ducks, which are often seen waddling blithely through the hotel lobby. An unassuming name for what happens to be an upscale dining room, serving American haute cuisine with "global accents." Candlelit tables and textured gold walls combine with a commitment to "impeccable" service. Thankfully, they don't serve duck. Location: 9801 International Dr. (in the Peabody Orlando); (407) 345-4550; www.peabodyorlando.com $$$
Fish Bones Restaurant