New passage to India: a handful of Indian chefs have embarked on a journey to redefine and modernize their complex native cuisine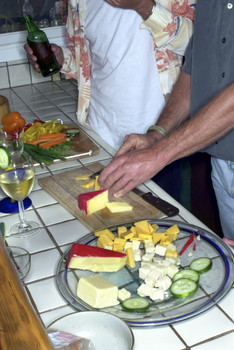 Much to the dismay, no doubt, of pub owners throughout London, a chicken dish has dethroned fish and chips as the city's single-most popular restaurant meal. A recent study there revealed that the new collective favorite in London restaurants is none other than chicken tikka masala, that rich Indian comfort food served at Indian restaurants everywhere.
Tikka is the Hindi word for cutlets, or pieces; masala, the word for spices. Some food historians claim it is a London invention, while others believe it could be a Mogul recipe dating to the 18th century. Regardless, chicken tikka masala has become the one dish by which every Indian restaurant is ultimately measured, and it can range from a rich, tomato-based curry with a perplexing orange color to a light, buttery stew the simple color of cream.
The tikka masala coup doesn't come as a huge surprise, really. Going out for a curry has long been a favorite British pastime. And London has firmly established itself as the culinary epicenter of contemporary Indian cuisine. The colonial relationship between the two countries has hastened the cultural exchange. Immigrants from India have become Britain's largest minority. As a result, the British restaurant industry has long since championed India's narrowly defined micro-cuisines such as Moghlai, South Indian, Gujarati, Hyderabadi, Jewish-Cochini, Bengali, Goan, Chettinand, Punjap, Madras or Parsi.
By comparison, India's fine restaurants are driven by tourists, not locals. The majority of India's people do not dine in restaurants, and those who do typically eat Chinese or French food for a change of pace from the home kitchen. And for Indians in one region to embrace the cuisine of another is rare, since their cuisines are so deeply rooted in specific cultural mores and religious traditions.
Thus, understanding the intricacies of India's many micro-regional and religious dining habits takes decades, not years, of study to fully master. After reading numerous articles and cookbooks and eating at countless regional Indian restaurants, I am more confused than ever about what differentiates a Gujarati dish, for example, from a Parsi one. And for every restaurant in London that specializes in one Indian micro-cuisine, there are a dozen more that more closely resemble the ones in America, which focus on the generic division between North and South. (The North being where tandoori cooking and most common dishes come from; the South being mostly vegetarian.)
Breaking Ranks
Most chefs still don't dabble in Indian cuisine because they don't realize it can be anything other than chunks of meat in a spicy gravy or skewered pieces of chicken cooked in a special clay oven that they will never own. And until recently, no one had dared take Indian cuisine out of its downscale, traditional ethnic capsule and move it onto the larger culinary stage.
But that's exactly what a few very savvy chefs and restaurateurs are beginning to do--and with tremendous success. It is an evolutional process no different than earlier ones that catapulted Italian and Japanese cuisines into the American vernacular. This new movement is modernizing Indian food with current kitchen trends and universal culinary techniques.
The leading proponent of this movement is Vineet Bhatia, who rose to culinary fame at London's Star of India, a cramped restaurant in the residential neighborhood of South Kensington, a few blocks north of Buckingham Palace.
"There is a misconception still, even in London, that an Indian meal has to be kebabs and a curry," says Bhatia, a Bombay native who formerly headed the kitchens at various Oberoi hotels--India's answer to the Ritz-Carlton.
Bhatia's food is nothing short of an epiphany--pure, clear, easy to understand. Instead of oddly bright-red chicken presented with yogurt sauce, his rotisserie-style bird is served with a bright, cilantro-chile dressing. Instead of chunks of lamb stewed in a rich, thick gravy, his lamb chops are frenched, with a mint and mango chutney for slathering.
Only a handful of restaurants in the United States are beginning to approach the cuisine with similar cunning. One is Tabla, the Manhattan partnership between Danny Meyer (Grammercy Tavern, Union Square Cafe) and Bombay-born-and-trained Floyd Cardoz. Another is Los Angeles' Tantra, for which Bhatia is a consulting chef.
Some food critics have accused these restaurants of further muddying the already complicated conventions of Indian cuisine. But these chefs have arguably hit on something that could unlock a palette of flavors for restaurants of all stripes, Indian or not. A dish borrowed from India's new wave could quite easily become the chicken tikka masala of the American foodservice industry.
New World Order
After Bhatia left Star of India, he opened the elegant Zaika, one of only two Indian restaurants in the world to earn a coveted Michelin star (the other being the much-studied restaurant in London's Mayfair called Tamarind).
Bhatia has defined modern Indian cuisine as a fragile, but entirely valid, marriage of classical techniques--French, Italian, even Japanese--with traditional Indian flavors. And though he does serve a few classic curries inspired by regional traditions, it is his more experimental side that is getting attention.
For example, Bhatia and Head Chef Sanjay Dwevidi serve a risotto made with basmati, India's sweet, nutty mainstay, instead of Italy's short-grain Arborio. This long-grain rice cooks twice as fast as the Italian short-grains, thus making risotto a simpler task for the restaurant kitchen. And because the grains are more delicate, they require less and more delicate stirring to release their starch. A simple drizzle of truffle oil transforms the dish into a revelation that transcends borders. But Dwevidi doesn't stop there. Over the top of the risotto, he serves green chicken tikka: delicate boneless, skinless morsels of chicken marinated in a classic Indian chutney
And while most people associate tempura batter with Japanese cuisine, the light, delicate coating is integral to Zaika's tempura chicken tikka--chicken tenders thinly sliced and marinated in yogurt, then lightly battered and fried. The thinness of the strips and the heat of the fryer contort the chicken into strikingly whimsical poses, while the marinade recalls ageless Indian flavors. Several strips comprise an appetizer portion, tangled together on a square white plate artfully painted with coriandermint chutney and tamarind syrup. Not only is the dish wildly popular, but, priced at roughly $10, it is one of Zaika's most profitable offerings.
Innovation Across the Pond
Similarly, since the opening of Tabla in 1999, Chef Floyd Cardoz has been on a parallel course with his own take on modern Indian cuisine. "Our flavors are very Indian," he says. "Some people classify Tabla as an Indian restaurant, while others want to call it American [indeed, co-owner Meyer has even called it American]. If you close your eyes and taste the flavors, it's unquestionably Indian. But if you open your eyes, it doesn't look like anything from India."
Case in point: Cardoz's crisp-skinned and aromatic Goan roasted chicken was inspired by the birds his mother used to roast at home in Bombay when he was just a child. He rubs tender young chickens inside and out with a paste of ginger, chiles, cinnamon, cloves and cumin ($28). He lets the chickens marinate overnight, then simply roasts them on a rack in a 350 [degrees] F oven.
The restaurant is physically divided into two distinct spaces with markedly different menus. The casual Bread Bar at Tabla focuses on the rustic, family style cooking of India's home kitchens, while the more formal main dining room is where Cardoz stages his modern Indian cuisine. Although Tabla's initial clientele was almost entirely Anglo, today it welcomes a substantial Indian crowd. "Indians are fed up, too, with the same old food served in Indian restaurants," Cardoz says.
Bhatia and Cardoz remain undaunted by their critics, insisting they are merely unchaining their native cuisine from the rigid constraints of history. Their style of modern cooking is undeniably Indian--even if their ingredients aren't exactly the same as what they used when they still both lived and cooked in India.
Both point to the change of seasons in their respective countries and the dearth of high-quality ingredients in India as further rationale for their approach. "We simply use the best local ingredients we can find, which are usually of much higher quality and somewhat different from what we used in India," Bhatia says.
"Why serve lesser quality food when you can serve something better?" he adds. "But you have to know the law if you're going to break it and get away with it. Because if you break the rules without knowing the boundaries, you will always get caught."