New tomes highlight balanced style of Asian cuisine. . - From the Bookshelf - 'Essentials of Asian Cooking,' 'Indian Home Cooking,' 'Vatch's Thai Street Food' - book review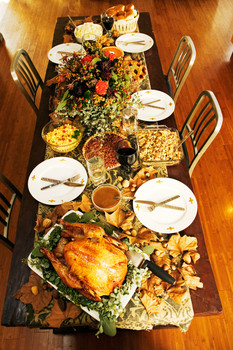 Asia is the home of a number of fine cuisines, including Chinese, Indian, and Thai. The following cookbooks show the latest developments.
ESSENTIALS OF ASIAN COOKING, Corinne Trang, 593 pages, New York: Simon & Schuster, $40.
Dishes including spring rolls from Vietnam, shredded-chicken salad from Bali and pork curry from Chiang Mai, Thailand, suggest the geographical range of the author's culinary odyssey through Asia.
Trang, author of the award-winning "Authentic Vietnamese Cooking," and a culinary-arts instructor, is well-qualified to tackle the complex fundamentals of Asian foods.
The theme of her current work is the similarities that pervade the cookeries of China, Cambodia, Indonesia, Japan, Korea, the Philippines and Vietnam. She explains that the key to those cuisines is a structured balance of opposites in food and five principal flavor notes - salty, bitter, sour, spicy and sweet.
The cookbook is organized into the following sections: condiments; stocks, palate cleansers and starter soups; rice, noodles, dumplings and breads; vegetables and herbs; fish and seafood; meat and poultry; and sweets and drinks. Trang assembled her more than 300 recipes to juxtapose similar dishes, so the interrelationships between the cookeries are clear.
INDIAN HOME COOKING, Jan Purser and Anjoy Joshi, 128 pages, Boston: Periplus, $19.95.
Purser, a nutrition consultant and freelance writer, teamed up with Joshi, who is chef and co-owner of Nigiri's restaurant in Sydney, Australia, to write this interesting introduction to Indian cooking.
It is composed of more than 60 recipes arranged as spice mixes; appetizers and snacks; soups; chicken dishes; seafood; meat items; vegetable dishes; rices and breads; raitas, pickles and chutneys, and desserts and drinks. Opening essays provide a history of India and its culinary traditions as well as a look at ingredients, including spices, and suggestions for necessary equipment.
This is a lavishly illustrated tome, with most recipes accompanied by color photographs that show just how good the food looks.
VATCH'S THAI STREET FOOD, Vatcharin Bhumichitr, 144 pages, San Diego, Laurel Glen, $19.95.
The author has written several other cookbooks and is owner of three restaurants in England, including Southwest W9 in London. His purpose here is to show that food stalls are an essential part of Thai life.
This beautifully illustrated book showcases the dishes sold by street vendors in Bangkok and outlying areas and in the North and Northeast. The more than 100 recipes include such exciting treats as steamed crabmeat, curried pork with pickled garlic and duck with tamarind sauce.