Southern comforts - restaurants in the Asheville, North Carolina, area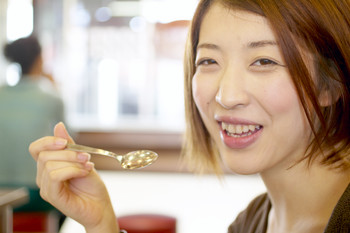 Beautiful and hip, Asheville, N.C., is also a haven for fine vegetarian dining
When you travel to Asheville in North Carolina's mountains, there's no guarantee you'll meet a native Carolinian. You're just as likely to find a Long Islander or a Bostonian who came and never left. Stressed-out urban warriors who come here to vacation find themselves renewed by the area's mountainous beauty, its laid-back attitude and artistic atmosphere. Visitors appreciate Asheville's mild climate and the bounty from local organic farms. They find themselves returning again and again, eventually settling in to pursue careers in massage therapy, to lose themselves in the ceramic arts or to open the vegetarian restaurant of their dreams.
Indeed, Western North Carolina has become such a nexus of alternative lifestyles that the word alternative has almost lost its meaning here. Environmental awareness, natural medicine and vegetarianism are commonplace in Asheville, which locals proudly call the Paris of the South.
The city's progressive spirit and striking landscape made it a natural choice for the setting of the 26th annual Vegetarian Summerfest, a gastronomic and informational gathering that focuses on the entire vegetarian lifestyle. Scheduled for July 5 to 9 at the University of North Carolina at Asheville, Summerfest offers a mixture of food, education and fun, according to organizers at the nonprofit North American Vegetarian Society (NAVS) of Dolgeville, N.Y.
The NAVS selected Asheville to host the festival for the first time this year because of the city's ambience and the area's festival-friendly climate. Even in July, the sky-high locale stays relatively cool. Beyond cooking demonstrations, yoga sessions and nature walks, Summerfest will host a full roster of speakers in the areas of nutrition, food preparation, exercise, animal rights and the environment.
This year's highlights include a presentation by Howard Lyman, who took the national stage as Oprah Winfrey's codefendant when Texas cattle ranchers filed suit after Lyman's 1996 appearance on Winfrey's show. Also speaking is Gary Francione, a Rutgers University law professor, vegan and avid supporter of animals' legal rights. Vegetarian chef Ken Bergeron, a gold medal winner at the International Culinary Olympics, is in charge of cooking. To register, call the NAVS at (518) 568-7970.
Even if you won't be attending the festival, Asheville makes a great base for exploring Western North Carolina. Nestled between two mountain ranges, Asheville lies alongside the Blue Ridge Parkway and is a two-hour drive from another natural wonder, the Great Smokey Mountains National Park. Though it's small--just 67,000 residents--the city has become a top destination for visitors who come to breathe in a little mountain air and leave behind the gray pavement of home.
If your budget permits, stay at Beaufort House, an immaculate bed and breakfast just north of downtown. This beautifully renovated Victorian is a wayfarer's dream, with big bedrooms, great service and--best of all--fabulous vegetarian food. Prepared by vegan owners Jacquelyn and Robert Glasgow, Beaufort House's breakfasts are out of this world. Even if you're not vegan, you owe it to yourself to taste the savory tofu quiche. In the afternoon, tea and cakes are served in the sitting room. With notice, Jacquelyn will bake a lemon-berry coffee cake topped with tofu cream that leaves most dairy desserts in the dust.
At the heart of Asheville's art deco downtown is Pack Square, one of America's few original, vibrant city centers. Part of what makes this area special is the lack of corporate colonization. At the Square's epicenter is Pack Place, a regional center for the arts, education and theater. For nightlife, just across the street is Be Here Now, a smoke-free club featuring bluegrass, rock and roots music.
Within walking distance is a rich variety of restaurants. Grab an outdoor table directly on the Square at La Caterina Trattoria for some terrific Italian fare. Simplicity and freshness are key at this eatery, with many of chef Damien Cavicchi's ingredients made in-house. The menu changes daily but always features vegetarian specialties made with a minimum of fuss and infused with a careful selection of fresh organic herbs.
In contrast, around the corner at Salsas, Hector Diaz throws together zillions of ingredients in a mad frenzy, concocting food that tastes truly unique. Diaz's eclectic cuisine is inspired by Mexican and Caribbean traditions; Diaz himself is from Puerto Rico. Chefs love to eat at Salsas because the riot of flavors challenges anyone who enjoys &constructing food. For a great example of Salsas' culinary anarchy, try the Copa appetizer: vegetarian corn and root chips with black beans, roasted peppers, goat cheese, ginger, cilantro, sour cream and lemon.
A few minutes' walk from Salsas is Lexington Avenue's antiques district, with a few hipster shops like Cosmic Vision and Mystic Eye thrown into the mix. Here you'll find Max & Rosie's, a juice bar and cafe influential during Asheville's vegetarian boom in the early '90s. Try Max's favorite veggie burger, a delicious original. Or try any of a dizzying array of juices and smoothies. In the summertime, don't miss Max & Rosie's "Psychic Sundays," when you get brunch and an aura reading for just $10.
Farther along North Lexington is Heiwa Shokudo ("peaceful place"), serving delicately seasoned and traditional Japanese meals with plenty of macrobiotic and vegetarian offerings. The restaurant reflects the vision of owner and chef Peter Wada, who radiates serenity and makes food to match--light, delicate and simple.
A 10-minute walk across downtown leads you to Asheville's best-known veg restaurant, The Laughing Seed. The restaurant was a winner in the town's Culinary Showcase competition and has garnered praise from such national publications as The New York Times and Southern Living. Owners Joan and Joe Eckert serve up a big menu of veggie classics--from casual sloppy joes to extravagant dishes like Thai green curry--along with nightly specials that often include meatless versions of classic Southern dishes.
For a unique evening of food, fun and suds, head north of the city center to the Asheville Pizza and Brewing Company. Formerly a movie theater, this unusual eatery offers a great variety of pizzas (including fat-free and soy-cheese varieties) that have taken honors as the best local pies for the past two years. Vegetarian owners Leigh and Mike Rangel also serve three types of vegan burgers and four microbrews created on the premises. You can eat your meal in the cavernous restaurant up front or head back to the theater to munch while you watch a $1 movie.
If you're looking for food to take out, try the newly expanded French Broad Food Co-op, a couple of blocks down Biltmore Avenue from Pack Square. The store is clean; prices are reasonable; and the selection of organic produce, natural foods and health and beauty products is huge.
No visit to Asheville is complete without a trip to the Biltmore Estate, the largest private residence in America. George Vanderbilt, grandson of shipping and railroad magnate Cornelius Vanderbilt, commissioned a team of artisans to create a home rivaling the great mansions of Europe. They succeeded. In addition to spanning nearly four acres of floor space and extensive decorative gardens, the estate was designed to be self-sufficient, complete with stables, a railroad station and a winery. The Bistro, located in the winery, serves refined fare based on French and Italian country classics. Salads, appetizers, pizzas and desserts are particularly good for vegetarians. Be sure to try the fabulous warm cobbler, with its fresh berries and soft cake-like crust, or the thick, semisweet cappuccino mousse with almond biscotti.
Fine food, gentle climate and a cosmopolitan cultural life--it's no wonder that Asheville is no longer a secret. Whether the city's charm will survive the onslaught of urban refugees remains to be seen. For now, Asheville is handling the extra attention with grace, style and a vibrancy that's rare even in much larger cities.