The Heart of Italy - Italian cuisine - Brief Article - Recipe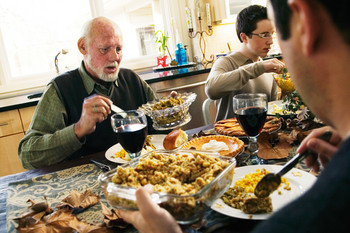 Simple. Fresh. Delicious.
When the sun rises over the hills of Tuscany, village marketplaces from Siena to San Gimignano pulse with savvy Italians buying the finest, freshest produce just off the land. Stalls spill over with a cornucopia of rosy tomatoes still wet with dew glossy purple eggplants. and deep green zucchini. At these vibrant markets, the air is permeated by the woodsy fragrance of wild mushrooms, twined bunches of aromatic basil, branches of needle-shaped rosemary, and oval leaves of sage.
Perfect Ingredients, Robust Flavors
"Great attention is paid to raw materials, which must be of the highest quality," says tamed Italian cookbook author Lorenza de'Medici. "Excellence depends on perfect ingredients, simply but knowingly prepared."
Paolo Lafata, executive chef for Olive Garden Restaurants, where fresh vegetables and herbs are a staple in the kitchen, couldn't agree more. "When you use the best fresh ingredients, the robust flavors and aromas are irresistible," he says.
Just try resisting Paolo's Bruschetta Caprese. shown above: grilled Italian bread topped with vine-ripened tomatoes, fresh basil and mozzarella, and drizzled with extra virgin olive oil -- made even more enjoyable with a glass of Pinot Grigio. Or try his tribute to Tuscany's bistecca alia fiorentina, a simple grilled T-bone brushed with Italian herbs, best savored with a glass of Chianti Classico. Fresh ingredients from the land provide for Italy's rich culinary heritage, and honor the integrity of the village marketplace.
RELATED ARTICLE: CLASSIC ITALIAN FLAVORS
Love the traditional ingredients of Italian cuisine and want to expand your culinary repertoire? Try a few of these simple ideas that go beyond Eggplant Parmesan and Pesto.
TOMATOES: Slice, drizzle with extra virgin olive oil and sprinkle with salt and cracked black pepper
EGGPLANT: Sprinkle slices with salt Brush with extra virgin olive oil, grill, then top with slices of mozzarella and chopped basil.
BASIL: Layer fresh basil between sliced mozzarella and tomatoes, or toss with extra virgin olive oil, garlic, fresh tomatoes, and pine nuts for a fresh pasta sauce.
OREGANO: Toss fresh oregano leaves into salads; add to cheese, vegetables fish, and poultry.