Wowing restaurant patrons with flavor: foodservice fare provides a glimpse of upcoming trends. The data research company, Food Beat, analyzes menus of the 200 largest chain restaurants, as well as 50 trendsetting operators. Entrees, side dishes and desserts highlight flavor use for customer appeal. The evolving nature of Barbecue, Buffalo, Caesar and Cajun flavors is examined - formulation & ingredient challenges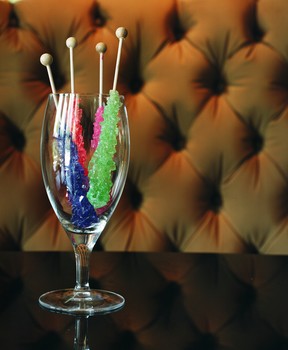 New flavors, bold flavors and multiple flavor combinations characterize many of the new items making their debut on menus of the nation's top 200 chains (those with annual sales roughly at $70 million or higher) during the first half of 2003. Successful operators, from quick service to fine dining establishments, have maximized the use of flavors to attract customers, improve margins and differentiate themselves from their competitors.
A sampling of menu items introduced in early 2003 appears throughout this article. It is interesting to note several of the operators are in the family coffee shop segment, not traditionally known for flavor innovations. However, as the following items show, operators across the board understand the advantages flavored items bring to the menu.
Boneless Shanghai Wings--Crispy breaded chicken breast tossed in ginger citrus sauce and topped with sesame seeds. Served with Wasabi ranch dressing (Chili's, Dallas, $5.99)
Grilled Chicken Supermelt--A delicious blend of incredible flavors. Grilled chicken breast, crisp bacon, grilled baby portobello mushrooms, roasted red pepper garlic sauce and melted Swiss cheese on grilled honey dill bread (Friendly's, Wilbraham, Mass., $7.29)
Blackened Chicken Taco Salad--A festive medley of spicy chicken breast and black olives. All atop fresh garden greens in a crispy tomato tortilla shell, served with ancho bacon dressing, Pace salsa and confetti straws (Perkins Restaurant and Bakery, Memphis, Tenn., $6.99)
Roasted Vegetable Sandwich--Marinated portobello mushrooms, roasted zucchini, squash and red bell peppers served hot on ciabatta with savory pesto mayonnaise (la Madeleine, Dallas, $6.49)
For the following overview of flavor trends, the menus of the 200 largest chains nationwide, called "The Top 200," were studied, as well as a group labeled "Trendspotters," made up of 50 high-profile, trendsetting and independent operators who tend to be early adapters of new ingredients and flavors. Three different menu categories--entrees, side dishes and desserts--highlight how operators use flavors to enhance customer appeal and profitability.
Enter the Entrees
Taking the time to enhance and describe how the center of the plate is prepared whether it is beef, pork, chicken, fish or shellfish--provides an excellent opportunity for chain operators to showcase their menu flavors. The following menu items include marinades, glazes, crusts and other flavor descriptors, in addition to cooking techniques such as grilling and searing. As these examples demonstrate, the more information used to describe an item, the greater the customer appeal.
Baja Steak--12-oz., center-cut sirloin marinated in a savory onion and herb vinaigrette. Served on a bed of crispy blue and red corn tortilla chips (Charlie Brown's Steakhouse, Mountainside, N.J., $13.49)
Hawaiian Steak--8-oz. top sirloin grilled in a special island marinade and finished with a ginger glaze and green onions. Served with a grilled fresh pineapple slice, rice and fresh veggies (Chili's, Dallas, $11.99)
Rib-Eye al Chianti--This grilled 14-oz. certified Angus beef rib eye steak is topped with roasted garlic Chianti sauce. Served with garlic mashed potatoes and fresh grilled vegetables (Romano's Macaroni Grill, Dallas, $16.99)
Sizzling Sirloin & Scampi--"Good in butter. Better in your mouth." Seared petite sirloin steak served with shrimp, broiled in white wine and citrus butter sauce. Accompanied by Ruby's signature baked potato, onion straws and steamed broccoli (Ruby Tuesday, Marysville, Tenn., $14.99)
Yucatan Chicken--"More 'bueno' than ever!" Fresh cilantro-citrus marinated chicken roasted and served on a skillet with potato wedges, sauteed fresh vegetables, rice and "salsa quemada," with warm tortillas (Acapalco, Long Beach, Calif., $7.99)
Char Grilled Ancho Chicken Breast--Marinated in citrus juices and fresh herbs, then flame grilled; served with roasted ancho pepper sauce, crisp fried yucca, fresh steamed asparagus and vine ripened tomato salsa (Bahama Breeze, Orlando, Fla., $9.95)
Blackened Chicken Pesto Pasta--Blackened chicken strips are tossed with al dente penne pasta and simmered in a flavorful cheese and red pepper pesto cream sauce with a hint of garlic, capers, cilantro, sun-dried tomato and a pinch of Parmesan cheese (Champps, Greenwood, Colo., $12.95)
Herb Chicken--Tender chicken baked in a citrus herb rub, topped with a tomato basil salsa (The Keg Steakhouse & Bar, Bellevue, Wash., $13.95)
Flaherty's Famous Fish--A lightly dusted and pan-seared mild, flaky white fish filet served over pesto orzo, then drizzled with a savory lemon butter sauce. Topped with capers and fried onions and served with fresh green beans (Bennigan's, Plano, Texas, $12.99)
Fresh Halibut--Served in season. Crumb-crusted, fresh Northern Halibut with tomatoes, artichokes, capers, basil and balsamic vinaigrette. Served over mashed potatoes (Cheesecake Factory, Calabasas Hills, Calif., $17.95)
Pan Seared Tilapia--Tilapia is a mild fish. Pan-seared to get a glaze crust and served over a bowl of white Italian beans cooked in a broth with fresh basil and other herbs (Houlihan's, Kansas City, Mo., $13.99, lunch $9.99)
Scallops A Cappella Dinner--Half a pound of sweet Atlantic scallops brick oven-broiled with extra virgin olive oil. Accented by roasted garlic and a hint of rosemary, topped with crispy crumbs (Bertucci's, Northborough, Mass. $12.99)
For an operator, not merchandising flavor's and ingredients to their customer represents lost sales opportunities. As these entrees illustrate, "If you've got it flaunt it." This can be a good rule of thumb for operators interested in creating a unique identity and, ultimately, increasing their profitability.
Distinctive Side Dishes
Surprisingly, chain menus are somewhat limited in their flavor applications on side dishes. However, the Trendspotter group features numerous flavor additions to common center-of-the plate accompaniments. The following examples include the restaurant name as well as the chef/proprietor.
Flavored mashed potatoes make up 75% of mashed potato menu mentions. Frequently, the flavor enhancers used in these examples are pantry items, but are not commonly used to flavor mashed potatoes. However, using these flavors is a simple way to make mashed potatoes an even more interesting complement to the entree.
Smoked bacon whipped potatoes (Charleston Grill, Charleston, S.C., Robert Waggoner, $4.50)
Olive oil mashed potatoes (LuLu, San Francisco, Reed Hearon, $3.95)
Black olive mashed potatoes (Rosemary's, Las Vegas, Michael and Wendy Jordan, $4.50)
Sun-dried tomato mashed potatoes (Strings, Denver, Noel Cunningham)
Trendspotter menus featuring a la carte side dishes also use flavor as a way to create signature items. Spinach is one of the most popular vegetables offered on an a la carte basis. The following examples highlight ingredients used to create a flavor-oriented point of difference.
Crispy spinach (Baang Cafe & Bar, Greenwich, Conn., Restaurant Group, $8.00)
Spinach fondue, artisan Manchego (Chef Allen's, Miami Beach, Allen Susser, $8.95)
Spinach with garlic, olive oil and lemon (LuLu, San Francisco, Reed Hearon, $4.25)
Creamed spinach and leeks (Park Avenue Cafe, New York, Smith & Wollensky Restaurant Group, $8.50)
Though most often featured as a flavoring agent, several Trendspotter operators offer onions as a side dish, with flavor and preparation upgrades that go beyond conventional onion rings; the result is a creative, signature item.
Spicy chili onion rings (Buckhead Diner, Atlanta, Thomas Lee, $3.95)
Crispy battered onion rings (Fog City Diner, San Francisco, Bruce Hill, $4.95)
Cebollitas asadas--grilled green onions (Frontera Grill, Chicago, Rick Bayless, $0.95)
Grilled slices of sweet red onion (Union Square Cafe, New York, Danny Meyer, $3.75)
Delivering the Desserts
Most restaurant operators and patrons alike agree that chocolate is far and away the most popular flavor on dessert menus, and Food Beat's database confirms this. Some of the newest chocolate dessert offerings finding their way onto chain menus in the first six months of 2003 include:
Chocolate Meltdown Cake (Chi-Chi's, Irvine, Calif., $5.14)
Three-Layer Chocolate Cake (Lone Star Steakhouse, Wichita, Kan., $4.49)
Chocolate Stampede--Two peaks of chocolate cake packed with six types of chocolate including chocolate mousse, fudge icing and chocolate shavings! Served with vanilla bean ice cream, fudge sauce and whipped cream (LongHorn Steakhouse, Atlanta, $5.99)
Triple Chocolate Brownie--Baked fresh daily. It's Mimi's own recipe with dark chocolate, milk chocolate and white chocolate melted into the batter, served with warm vanilla bean ice cream (Mimi's Cafe, Los Angeles, $4.99)